To live life to the full and stay healthy you need to be active. Brisk walking is one of the easiest forms of exercise. To get the most benefit from walking and to reduce injury, wear the best walking shoes for women that suit your requirements.
Brisk walking provides the body with many benefits. It improves your mood, mental health and intellectual function. Brisk walking also helps reduce stress, diabetes, heart disease and stroke. Furthermore, brisk walking is one of the best exercises for weight loss.
A good pair of walking shoes improves your stride and maximizes your performance. Wearing the best walking shoes for women helps reduce the incidence of injury. This all combines to make walking a healthy and pleasurable activity.
Most Comfortable Walking Shoes For Women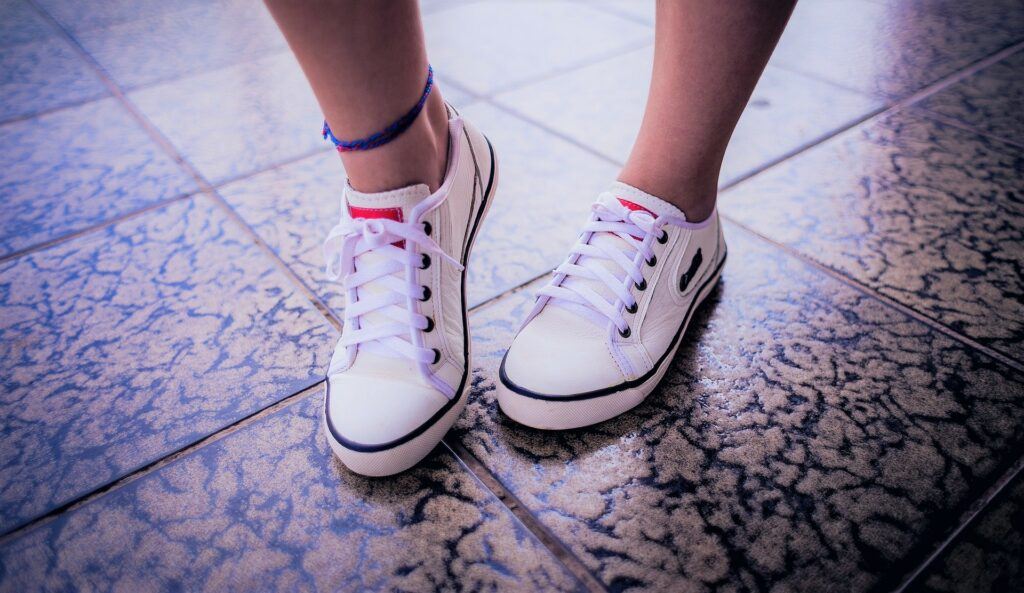 In order to stay active and reap the benefits of walking, wear appropriate walking shoes. The best walking shoes for women are the ones that are the most comfortable for you to wear. Because if you can't walk comfortably you will most likely stop being physically active.
This will result in you living a sedentary life. Being inactive has negative effects on your body. Inactivity can result in you developing life-threatening diseases, such as heart disease or some forms of cancers.  
To get the most benefits from walking, aim to walk a minimum of 10,000 steps per day. But in order to achieve 10,000 steps, you need to wear the most comfortable walking shoes for all day comfort.
The most comfortable walking shoes for brisk walking are those that fit you properly. Always try on shoes before purchasing and walk around in them. Trust your instincts as your feet know which shoes are right for you.
As you exercise, your feet will expand slightly under exertion. So, when trying on shoes wiggle your toes to make sure there's room for expansion. Avoid shoes that are too loose as your feet will slide around in them and get blisters.
On the other hand, shoes that feel too tight or too loose aren't suitable for exercising. Avoid footwear that pinches, squeezes, or rubs at your toes or heels. Ditch any shoes that feel uncomfortable to wear as they'll only get worse with time.
If you spend long hours on your feet, the most comfortable walking shoes for you would be those with extra cushioning. Cushioning isn't the same thing as mushiness! That's because mushy shoes are too soft and don't offer the correct support. They create more work for your feet and leg muscles which results in tiredness.
The Best Walking Shoes For Active Women
The best walking shoes for women are the ones that cushion your heels and give support to your arches. Walking shoes need to be flexible and bendable to enable you to walk on different terrains. This helps you develop stronger muscles from your feet all the way to your butt.
The best walking shoes for active women should be lightweight. But because speed isn't usually an issue when walking, walking shoes don't need to be as lightweight as running shoes. However, walking shoes should have a good gripping sole as this allows you to walk on different surfaces without slipping.
The heels of the shoes should be low-profile, and angled. Avoid thick heels as these could cause tendinitis or shin splints. When you walk your heel hits the ground first. An angled heel therefore helps with smoother heel to toe transition. The sloping heel also helps to reduce the occurrence of slipping.
Best Walking Shoes For Women With Special Requirements
Your feet are the foundation of your body as they affect your mobility and your health. They function as rigid structures that bear your weight and provide mobility. They're also flexible, this enables them to stabilize your body when you're on uneven ground.
You therefore need to care for them by wearing the correct shoes! The correct footwear can help reduce discomfort, prevent falls and help you to stay active.
If you choose the wrong footwear, you can end up with sore feet. Foot pain from bunions, corns, calluses, inflammation or ingrown toenails can make you unsteady on your feet. Other foot issues that could cause pain include; pronated feet, wide feet, feet with high arches, flat feet, and plantar fasciitis.
Foot pain can cause people to choose to be sedentary instead of being active. Becoming sedentary will inadvertently affect your body in a negative way. This means that to remain active it's important to purchase the most comfortable walking shoes for your individual requirements.
If you aren't sure of the correct shoes for you, get your movement pattern analyzed. You can do this at any shoe store that offers gait analysis. That way you'll get the best walking shoes for your requirements.
Below are my picks for the best walking shoes for women with individual requirements.
Comfortable Shoes
If you have a neutral gait, choose comfortable shoes that allow your feet to flex and move without any guidance. The best walking shoes for women with a neutral gait include:
Saucony Women's Echelon LE2 Walking Shoe
Skechers Women's On-The-go Bliss-16526 Loafer Flat
Columbia Women's Newton Ridge Plus Waterproof Hiking Boot
Saucony Women's Guide 13 Tr Walking Shoe
Pronated Feet
If your feet tend to pronate (roll inwards), you'll require shoes with stiffer soles and stabilizing features. The best walking shoes for women with pronated feet include:
Saucony Women's ProGrid Integrity ST2 Walking Shoe
Ryka Women's Devotion Plus 2 Walking Shoe
Ecco Women's Soft 7 Low Cut Zip Fashion Sneaker
Skechers Performance Women's Go Walk 2 Slip-On Walking Shoe
Flat Feet
Women who have flat feet should buy the best walking shoes for your requirements. Shoes should be spacious yet comfortable. They should have a straighter last so your midsoles have contact with the shoes' innersole.
Shoes should feel comfortable immediately when trying them on. If they don't, you'll experience pain when wearing the shoes for any length of time. Shoes that don't offer the right comfort or support result in muscle and joint stress. The most comfortable walking shoes for women with flat feet include:
High Arches
Women who have high arches should choose shoes that offer extra arch support. Look for heavier style walking shoes that offer stability. The most comfortable walking shoes for women with high aches include:
Ryka Women's Sky Walk Walking Shoe
Dansko Women's Paisley Waterproof Outdoor Sneaker
Clarks Women's Leisa Lakelyn Flat Sandal
Merrell Women's Moab 2 Vent Hiking Shoe
Plantar Fasciitis
Plantar fasciitis is a pain in the bottom of your feet near the base of the heel and into the arch. The pain is caused by inflammation, overuse, or injury to the plantar fascia. It can occur in one or both feet and becomes more painful after prolonged activities where you're on your feet.
If you have plantar fasciitis you need shoes that support different areas of your foot. You'll require arch support, to stop feet from flattening out. Shoes should have deep heel cups as this will help pad your heel while keeping you stabilized.
Contoured footbeds are desirable as these evenly distribute your weight across your foot. Look for shoes that have removable footbeds in case you need to replace them with more suitable orthotics. The shoes should be well cushioned with thick rubber outsoles to absorb shock.
The best shoes for Plantar Fasciitis are:
Vionic Women's Walker
Dansko Women's Honor Comfort Shoes 
TIOSEBON Women's Athletic Walking Shoes Casual Mesh
Gravity Defyer Women's G-Defy Mighty Walk
Wide Feet
If you have wide feet choose shoes that allow freedom of movement in the front of the shoe. Choose shoes that have good cushioning and comfort. Comfortable shoes don't need to look horrible, they can also look good. The best walking shoes for wide feet and that look great on include:
Nike Women's Air Max Oketo Sneaker
Reebok Freestyle Hi Women's Athletic, Fashion Sneakers
Ryka Women's Dominion Omb Walking Shoe
CROC Women's Literide Clog