Losing weight is difficult! This is especially true if you don't enjoy eating diet foods. But losing weight won't be such a chore with my list of the 10 best foods for weight loss that give great results.
Wouldn't it be amazing if you could eat as much as you want without gaining weight! Is it even possible for your body fat to melt away while you sleep, watch TV, or while sitting at your desk at work? The truth is that losing weight is much easier when you eat the right foods!
My list of healthy foods for weight loss are tasty, natural foods that are delicious to eat. Many of them can be eaten as a snack, starter, main meal or even as a dessert.
When your next craving hits, snack on the tasty whole foods from my list of the 10 best foods for weight loss. Eating tasty, natural foods instead of highly processed, fattening options will help to stave off your appetite. But the best news is that they'll help you shed those excess pounds without the trauma!
10 Best Foods For Weight Loss
The challenge of losing weight through fasting can reduce some dieters to tears! But fasting and starvation isn't the answer to long term weight loss! To ensure weight loss, you just need to make some basic changes to your lifestyle.
You need to make a commitment to regularly eat tasty, natural, nutrient-rich foods. This doesn't mean that you should have a long list of forbidden foods. Instead, choose to eat great tasting, healthy foods more often than you eat fatty, and sugary foods.
My list of the 10 best foods for weight loss will help you lose weight without the tears. Having these healthy and nutritious options within easy reach can help you to stave off your appetite. And as a result, you'll lose weight without staving yourself and without the frustration and tears!
1. Dark Leafy Greens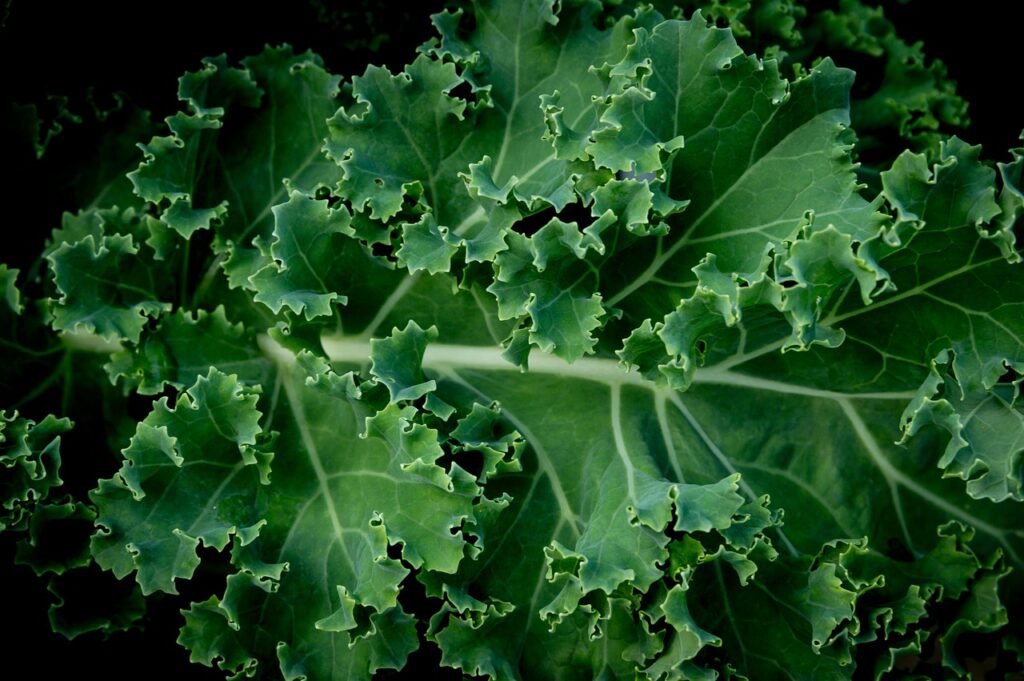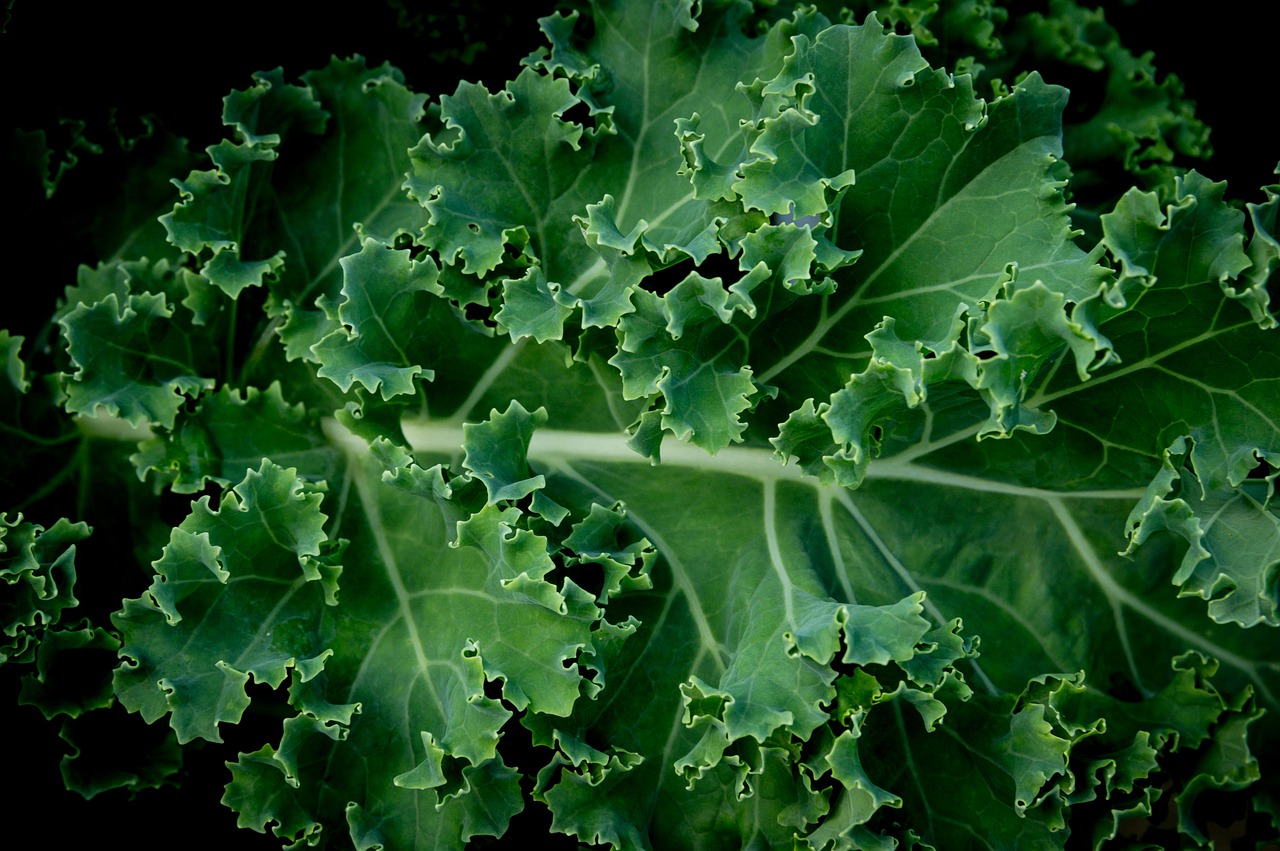 Dark leafy greens such as kale, spinach and Swiss chard, are some of the healthiest and most nutritious superfoods available! In my opinion they rank as number one out of the 10 best foods for weight loss
These low-calorie vegetables boast an impressive array of vitamins and minerals. Beneficial nutrients include; folate, riboflavin, iron, calcium, manganese, potassium, copper magnesium, as well as vitamins A, C, B6 and K.
Dark leafy greens also contain phytochemicals. These help prevent damage to blood vessels, reduce LDL cholesterol, prevent blood clots and reduce the risk of cancer.
Whilst they're low in calories, dark leafy greens contain protein and are high in fiber. These nutrients fill you up which reduces your hunger so it's easier to lose weight.
Dark leafy greens compliment meat-based meals as well as vegetarian dishes. They can be incorporated into meals that are prepped ahead of time as well as in soups, salads and smoothies. Green smoothies are a great way to get these awesome vegetables into your diet.
Delicious Green Smoothie
½ cup dark leafy greens such as baby spinach or kale
¼ avocado
½ ripe banana
1 tsp chia seeds
1 cup almond
½ cup ice
Combine all the ingredients and blend until smooth.
Easy Kale Chips
Another easy and delicious way to get more leafy greens into your diet is to make kale chips.
1 cup of chopped kale leaves
1 tablespoon (15 ml) olive oil
1/4 teaspoons (1.5 grams) salt
Sprinkle of chili flakes (optional)
Mix all the ingredients in a bowl. Separate kale pieces and place on a baking tray lined with parchment. Bake at 350 °F (176.67 degree Celsius) for 10–15 minutes. Keep a watch on them as they can burn easily.
2. Fruit
An apple a day keeps the doctor away, and helps keep off excess weight! Great tasting fruits that help reduce belly fat include bananas, apples, berries, pears, grapefruit, and oranges. These fruits are low in calories, yet high in fiber. The fiber helps to fill you up to reduce hunger.
Fruit also contain antioxidants, vitamins and minerals. Eat a mixture of differently colored fruits to get an array of these powerful compounds. Eat them for breakfast, as a snack, in salads, with main meals, as a dessert and in smoothies.
But some people eat too much fruit! Fruit contains sugar in the form of fructose and glucose. While these sugars are full of nutrients, they're an extra source of calories that contribute to weight gain. If you want to lose weight, eat a maximum of 2 serves of fruit per day!
Dieters should also reduce their fruit juice intake. Drinking fruit juice is less healthy than eating the whole fruit. This is because juice doesn't contain the same fiber and the nutrients of whole fruits.
Additionally, fruit juice may contain more than 2 fruit serves per glass. It takes about 2-4 medium oranges to make 1 glass of juice which contains 4 teaspoons of sugar. There are many refreshing drinks, that help you lose weight. Drink skinny teas instead of fruit juice.
If you find fruit to be boring, change it up! Enjoy a tasty combo of slices of apples with a smear of peanut butter. But because peanut butter is high in calories, it's best to consume it in moderation.
Frozen berries make a refreshing treat on hot summer days! For a creamy low-fat snack, combine berries with Greek yogurt. If you prefer a sweet, salty taste sensation, try cantaloupe slices wrapped in a slice of prosciutto (dry-cured ham).
3. Vegetables
If you're serious about losing weight you can't ignore vegetables. Vegetables are great for weight loss because they're low in calories, high in fiber and low in fat content.
Vegetables also contain high amounts of vitamins, minerals, and trace elements that are essential for a healthy body. The best way to get the most nutrients and benefits from vegetables is to eat a variety of different colored vegetables.
Some of the best vegetables include mushrooms, cauliflower, broccoli, asparagus, carrots, pumpkin, beans, chilies, beetroot. Some people don't like to eat vegetables. But there are so many vegetables that you should be able to find a few that you like to eat. For more examples see my list of superfoods.
For a healthy body, eat at least 5 serves of vegetables each day. If you find it difficult to eat more vegetables, try adding into a daily smoothie drink. Some great vegetables for smoothies include cauliflower, zucchini, spinach, kale, and carrots.
An additional benefit to adding vegetables to your smoothies is that it reduces the amount of fruit you need to use. This reduces the sugar content and the number of calories in the smoothie.
Tangy Berry and Cauliflower Smoothie
1 cup mixed berries
½ cup steamed or microwaved cauliflower
1-inch cube ginger
1 cup almond milk
Banana and Zucchini Smoothie
1 ripe banana
½ cup zucchini, skin removed and chopped into cubes
1/3 cup almonds, walnuts, hazelnuts, or pecans.
½ tsp cinnamon
1 cup coconut water
Combine the ingredients for your chosen smoothie in a blender and blend until smooth.
For a sweeter smoothie, add 1 teaspoon of pure maple syrup or 2-3 pitted dates.
Add 2-3 ice cubes or use frozen fruit for a thicker textured smoothie.
4. Mixed Nuts and Seeds
Nuts and seeds are an easy no fuss superfood that make a satisfying, nutritious and portable snack. Nuts and seeds may reduce the risk of heart disease, diabetes, certain cancers, depression as well as high cholesterol and triglyceride levels.
They make the list of the 10 best foods for weight loss because they are high in proteins, monosaturated (healthy) fats and fiber. These nutrients help to fill you up so that you don't feel hungry. But nuts are high in calories so care should be taken not to eat more than 1 ounce (30 grams) per day.
Nuts are very versatile and make a quick and easy snack. They can be added to your breakfast, lunch, salads, dinner or be incorporated into desserts or smoothies.
A wonderful snack combo is to combine nuts with dark chocolate. Dark chocolate which contains at least 70% cocoa solids is actually good for you. It's high in magnesium and loaded with nutrients that help to lower blood pressure and reduce heart disease risk.
When eaten in moderation 1 ounce (or 30 grams) of chocolate combined with 1 ounce of nuts, this combo of nuts and chocolate will satisfy your hunger. It stops you from snacking on high calorie sugary, or fat loaded foods. So nuts can help you to lose weight!
5. Oats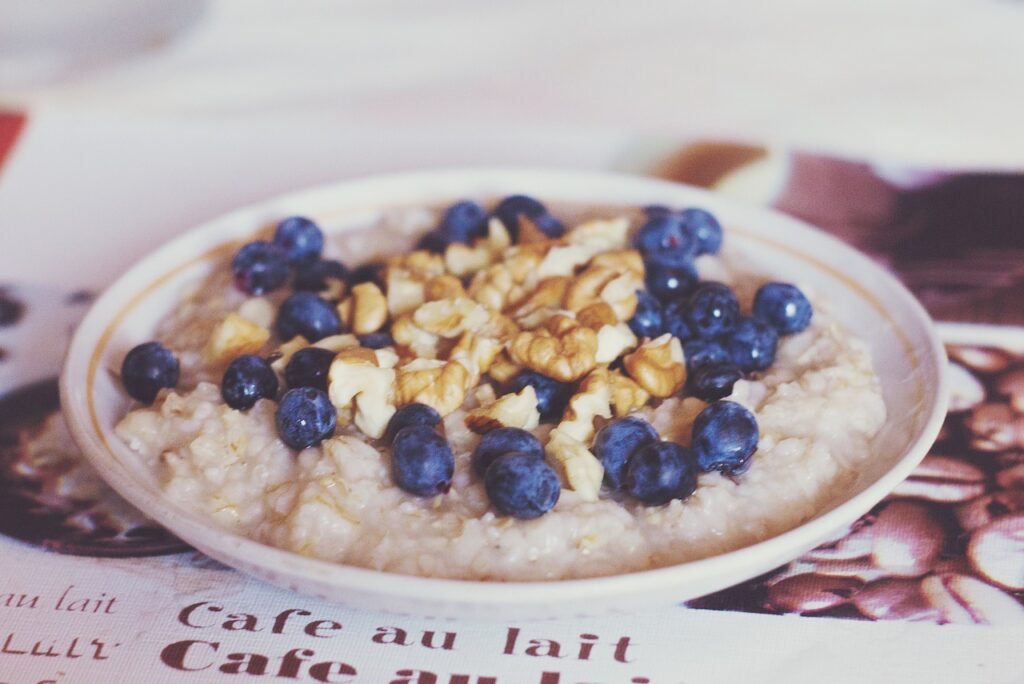 Oatmeal is another great weight loss superfood. It's high in protein and fiber, yet low in calories. They are a great way to start the morning. Oats satisfy your hunger and give your body enough energy to keep you going through the day.
Steel-cut oats and rolled oats are less processed than other types of oatmeal and are healthier than eating flavored oats. Flavored oats should be avoided as they are loaded with sugar, which adds unwanted calories.
The fiber in oatmeal controls blood sugar levels so that they don't spike. This keep you satiated for longer which helps reduce your appetite. This means that you'll consume fewer calories and therefore lose weight.
Oats take time to digest in the body which means that they burn more calories during digestion. This helps to regulate the levels of fat in the body which also helps with weight loss. Other benefits of oats include lowered blood sugar and cholesterol levels, protection against skin irritation and reduced constipation.
Add milk, fruit and nuts to your oats to increase the nutritional value of your breakfast. To improve the flavor, add fruits and berries such as strawberries, blackberries, blueberries and bananas.
Or mix up the taste by adding nuts and seed such as walnuts, almonds, pecans, pumpkin seeds or chia seeds. For a sweeter taste, add dried fruits such apricots, sultanas, raisins or cranberries.
6. Eggs: Best Foods For Weight Loss
Eggs are one of the top 10 best foods for weight loss. They're low in calories but high in vitamins, minerals, proteins and iron. Eggs are packed with beneficial vitamins K2 and B12, as well as iron, and various nutrients which help fight and prevent diseases.
Eating eggs for breakfast helps eliminate the need for snacking between meals. The reason for this is that the proteins and fats in the eggs have the power to keep you satiated. According to WEBMD, one egg only contains about 75 calories, 7 grams of protein, 5 grams of fat, and 1.6 grams of saturated fat.
Eggs are incredibly filling. This may reduce the number of calories you eat which should help you to lose weight. All you need do is eat two large eggs per day. Enjoy them hard-boiled, soft-boiled, scrambled, poached or in an omelet.
If losing weight is your goal stay away from eggs that are fried in fat. And watch your servings of bacon and sausages as these are high in calories. One slice of bacon contains 60 calories, while 1 pork sausage contains 134 calories.
Eggs are nature's powerhouse of nutritional value wrapped in a shell. Enjoy them anytime for breakfast, lunch, as a snack, for dinner or in desserts.
7. Fish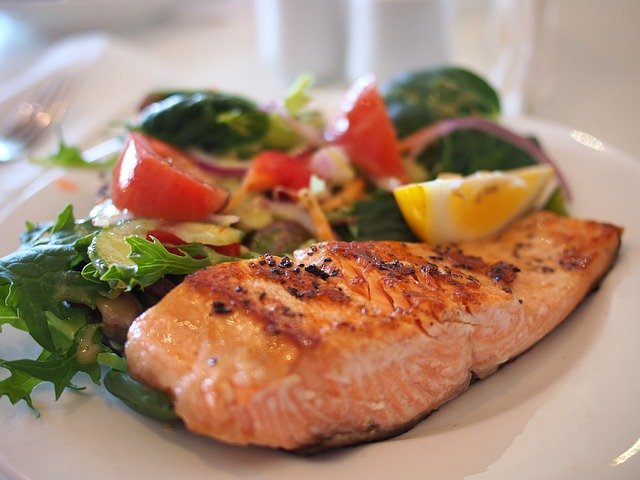 I love fish! It doesn't matter if it's canned tuna, baked trout, or barbecued salmon, fish is a dish I enjoy at least twice a week. Fish are a great source of protein and are low in saturated fat. They contain high levels of beneficial vitamins and minerals such as potassium, magnesium and vitamin B12.
Oily fish such as mackerel, salmon and sardines are high in omega-3 fatty acids. Fatty acids help to decrease your risk of heart disease and other health problems. Fish are lean and low in calories so incorporating fish into your diet can help you lose weight.
Fish are so versatile you can have them in soups, in tacos, on sandwiches, chopped up, flaked, filleted or cooked whole. They can be boiled, baked, fried, grilled or BBQed. You can even eat them raw in dishes such as sushi, sashimi and ceviche.
Fish based meals can be as simple as opening a can of salmon, tuna or sardines. Fish goes well with a side of mixed salad, colorful vegetables, rice, pasta or a side of fries.
If you're trying to lose weight, it's best to limit the amount of deep-fried foods that you eat. But if you hunger for deep-fried fish with a side of fries, it's best to cook them in an air-fryer.
Air-fryers help to reduce the amount of fat that the food is cooked in. The food absorbs less fat so it is healthier and leaner which will help you to lose weight.
8. Cheese
Cheese is a delicious, versatile food. It can be eaten as a snack, in sandwiches, in salads, or with a main meal. Cheese provides a good source of calcium, protein, vitamin D, potassium, as well as other necessary nutrients.
Some cheeses are high in saturated fat, sodium, and calories which negates weight loss. However, there is a theory that the body burns more fat when it gets enough calcium. To ensure weight loss, stick with low-fat cheese, yogurt and milk.
Below are the best cheeses for weight loss along with the number of calories per ounce (30 grams):
Part-skim mozzarella: 70 calories.
Feta: 74 calories
Camembert: 85 calories.
Cream cheese: 99 calories.
Blue cheese: 100 calories
Swiss cheese: 110 calories.
Cheddar: 115 calories
Cottage cheese: 163 calories.
Cheese is high in protein and contains some fat so it can be quite filling. High-protein foods digest slowly in your gut, so they keep you feeling full for longer. Cheese makes a quick and easy snack which help to reduce your appetite. This in turn can help you to lose weight.
Use your passion for a slimmer body to help you avoid sugary and fatty foods. If you're feeling peckish try the quick, and tasty snacks below:
Celery sticks with cream cheese.
Pear slices with ricotta cheese.
Cucumber slices with feta cheese.
Cherry tomatoes with mozzarella.
Carrots with blue cheese.
9. Avocados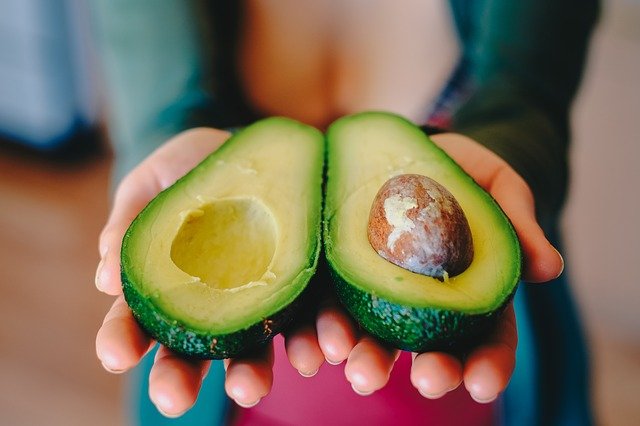 Avocados are some of the most nutritious and satisfying foods. Even though avocados are high in calories, they can be beneficial for weight loss. The reason for this is that avocados are high in soluble fiber, protein and monounsaturated fats.
Foods that are high in fiber, protein and fat help you to feel fuller. This suppresses your appetite which means you eat less food and therefore are more likely to lose weight. Fiber helps to increase your metabolism and aids digestion which also helps reduce belly fat.
Avocadoes are packed with potassium, magnesium, and heart-healthy, cholesterol-lowering, monounsaturated fat. These nutrients provide many health benefits. They increase your metabolic health, decrease the risk of high blood pressure, lower your cholesterol levels and promote weight loss!
One avocado contains about 322 calories which means that it's quite high in calories. Because you are watching your weight, it's best to only eat ½ an avocado per day.
Enjoy avocado slices sprinkled with salt and a dash of cayenne pepper. Or smash-up an avocado and combine it with salt, vinegar and chili flakes to suit your taste. You can even spread it on bread instead of using butter or margarine.
There are so many ways that you can enjoy the lovely velvety taste of avocados and still lose weight! Sliced avocado goes well with:
Salads.
Sandwiches.
Eggs and bacon.
Burgers, meat and chicken dishes.
Fish and prawn dishes.
10. Beans and Legumes
Beans and legumes round up my 10 best foods for weight loss. Many studies have shown that peas, chickpeas, lentils, soybeans, black beans, kidney beans, pinto beans and navy beans can help you get rid of abdominal fat.
Beans and legumes are low in calories and fat content, yet high in protein, fiber manganese, copper and iron. They're also high in vegetable protein and soluble fiber, so they help to fill you up. This leads to a reduction in the amount of food you'll eat and therefore a reduction in the number of calories consumed.
The high fiber content helps increase healthy gut bacteria and bowel function. Fiber also slows down the rate that the stomach empties. This helps reduce the rate that sugar is absorbed into the blood stream which lowers blood sugar levels and appetite.
Beans and legumes are packed with valuable vitamins and minerals. When beans and legumes replace red meat in the diet, they can help reduce risk factors associated with heart disease and cancers.
Other beneficial properties of beans and legumes include a reduction in:
Belly fat.
Waist circumference.
Blood cholesterol levels.
Blood sugar levels.
High blood pressure.
Number of bad bacteria in the intestines.
Beans and legumes are healthy foods for weight loss. Just one serving a day, (3/4 of a cup) of beans and legumes can help improve your overall health. All while helping you shed these unwanted pounds or kilos!
How to get more beans and legumes into your diet.
Add them to soups, stews and casseroles.
Use puréed beans as the base for dips and spreads.
Add them to salads and rice dishes
Mash cooked beans and add to meatballs or hamburger mixture.
Snack on soy nuts rather than chips or crackers.
Healthy Foods: The Best Foods For Weight Loss
To lose weight you need to do something different to what you are currently doing! That means eating healthy, natural foods instead of sugary, fatty foods. It would also be advantageous to include simple exercises into your lifestyle.
My pick of the 10 best foods for weight loss that work revolve around great tasting, natural foods that are quick and easy to make into meals. These healthy foods for weight loss are very versatile in that you can eat many of them for breakfast, lunch or dinner. They also make quick, easy snacks or add them to smoothies.
Give my list of 10 best foods for weight loss a try. Because once you start to eat healthy foods more often than unhealthy foods, you'll lose weight and keep it off. What have you got to lose, except all that unwanted excess weight!
Are you tired of fasting and starving yourself to lose weight? Then try the above 10 best foods weight loss!
What are your favorite foods for weight loss?