When time is short, it's tempting to order takeout food. But regularly eating takeout meals isn't healthy and will lead to weight gain. That's why I love these 9 easy healthy meal prep ideas for beginners. Use these foolproof tips and in no time at all you'll be prepping healthy, delicious meals like a pro! Prepping meals will save you time, money, stress, and you'll lose weight too! 
Meal prepping involves the preparation of several meals ahead of when they're required. It requires you to plan which home-cooked meals you'll eat each day. You then prepare your meals days, or weeks in advance so that you always have a supply of healthy delicious food options.  
It's up to you to decide which meals you will prep. Many meal prepping professionals will prep breakfast, lunch, dinner and snacks for the whole week! A beginner will find this amount of prepping to be over whelming. My suggestion would be to start off prepping the meals that are the most challenging for you to get to the table.
In my experience, it's best for beginners to start off by prepping main meals. This is because many people find getting dinner ready to be a challenge. They find that that they are too tired to cook a healthy meal after a long day at work.
My recommendation is for beginners to start off by prepping 3 main meals. This will give you a feel for the methods and time required to prep meals. Once you get the hang of it and your confidence grows, you can prep as many meals as you like.
Advantages Of Meal Prepping
There are many advantages to meal prepping. These include:
Saving you the time required to cook meals from scratch on a daily basis.
Having a variety of delicious healthy prepped meals on hand.
Reducing the stress of deciding what to cook after a long day at work.
Reducing the inclination to order high calorie takeout meals.
Helping you to lose weight!  
Unlike takeout foods, home cooked meals are the best way to care for your body! They're healthier than takeout meals because they're prepared with quality ingredients such as super-foods. Furthermore, you can package your meals into predetermined portions which helps prevent over indulging.  As a result, you'll be able to reach your weight goals faster.
Eating healthy meals should be a priority in life! But because many people are time poor, they fall into the trap of ordering takeout meals. While fast food may taste good, they're high in fat and calories, which leads to weight gain.
When you are time poor, the idea of preparing healthy and delicious home-cooked meals might seem like an impossible task. Follow my 9 easy healthy meal prep ideas and you'll be blown away by how easy it is to cook delicious healthy meals!
9 Easy Healthy Meal Prep Ideas For Beginners
1.  Make A Plan
Getting meals ready from scratch on a daily basis can seem like an impossible task. This is especially true when you're tired from working all day long. And if you have young children, preparing dinner can be a stressful daily chore.
But there's a simple way to overcome these stresses, and that's to prep your meals in advance! Meal prepping involves preparing whole meals or dishes, days or weeks before they're required. Busy people find meal prepping to be a life saver because it saves them a lot of time and stress after a long day at work.  
Meal prep involves making home-cooked meals ahead of time that you refrigerate or freeze. I personally prefer to freeze the meals that I prep. This is because frozen meals can last up to 3 months in the freezer, whereas refrigerated meals only last 3-4 days.
But before you do anything, I suggest you sit down a few days beforehand and make a plan. Advance planning will ensure that everything will go smoothly. If you are just starting out, I suggest that you plan to prep a maximum of 3 main meals for the first few weeks.
Starting with 3 main dishes will give you a feel for meal prepping. This allows you to determine any problem areas that you might encounter without causing you too much stress. You can then fine tune your techniques over the coming weeks. Remember that practice makes perfect!
2.  Choose Your Recipes
Plan ahead by deciding what kinds of foods you want to cook and then pick appropriate recipes. Pick recipes that you know you and your family will enjoy. Make sure the recipes you select are within your cooking skill level.
Being careful about the recipes you select will enable you to have an enjoyable prep experience. When you chose the correct recipes, you'll happily continue to prep meals into the future. Whereas failures due to being over ambitious will probably prevent you from trying again. 
Some of the best and easy healthy meal prep ideas for beginners are recipes that freeze easily. This is because frozen meals can quickly be reheated in the microwave on those days when can't be bothered to cook. Just remember to take the meals out of the freezer and put them in the fridge to defrost the night before you need them.
If you want to freeze your meals you need to choose your recipes carefully because you can't just freeze everything. Fresh fruit, salad leaves and uncooked vegetables with a high-water content don't freeze well. They breakdown and become soggy when they're defrosted and as a result don't taste good.
You can avoid this by cooking fruits and vegetables and blanching greens such as spinach prior to freezing. Avoid prepping foods such as shrimp and chicken with skin on. These foods tend to have a rubbery texture when they are reheated and don't taste as good as when they're freshly cooked.
Prep recipes that freeze well include curries, stews, and stir-fries.  Sweetpeasandsaffron.com has many recipes for both cooked and uncooked meals that you can make ahead time and refrigerate or freeze.
3.  Easy Healthy Meal Prep Ideas For Slow Cooker And Instant Pot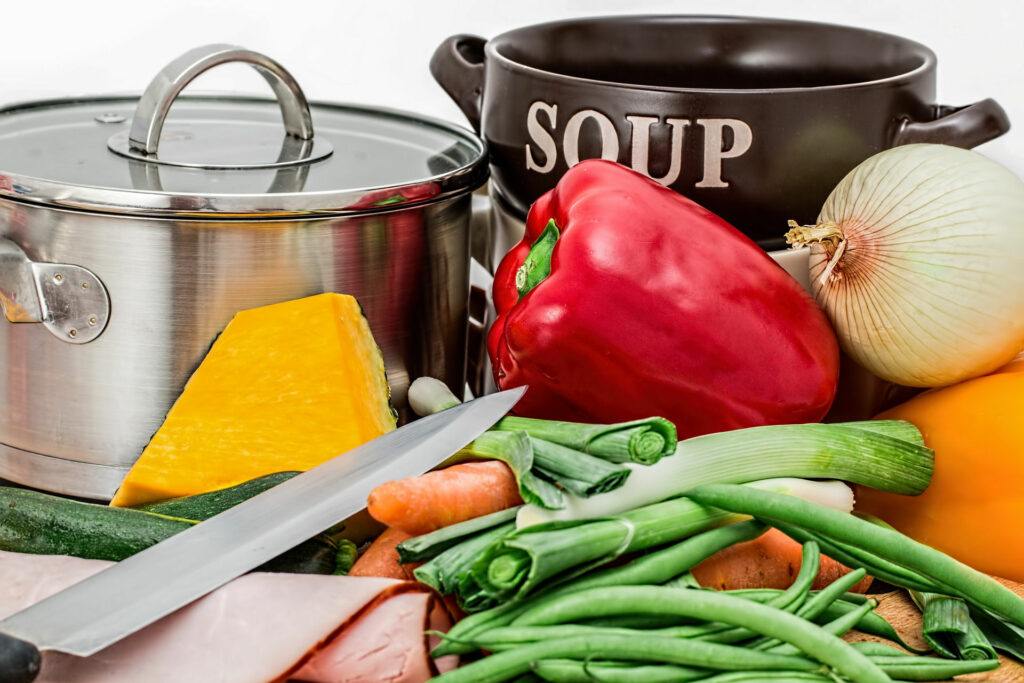 I love using my Slow Cooker in winter because it saves me heaps of time! I just throw in my prepped ingredients in the morning and my meals are ready when I arrive home. It's a good idea to consider recipes that can be cooked in a slow cooker or in an Instant Pot for those days when your cook time is short.
Determine in advance which days are the most difficult for you to put a meal together. For example, your cooking time may be reduced on the days that your children do extra curriculum activities. Another scenario might be that you regularly work late on certain days. On those days you don't feel like cooking when you arrive home after a long day at work.
On days when cooking time is short, or on days when you know you won't feel like cooking, consider recipes for your slow cooker. That way your meal will be ready when you arrive home. If you prefer quick cooked meals, consider Instant Pot recipes. Pinchofyum.com has some great freezer meal recipes that can be cooked both in a slow cooker or in an Instant Pot.
4.  Check Freezer and Pantry
One of the reasons that you want to prep food is to save yourself time and stress. There is nothing worse than starting to make a meal, only to find that you're missing half the ingredients.
So, once you've decided what recipes you want to prep, check your fridge, freezer and pantry to see if you have all the ingredients. Decide if you want to swap some of the recipe ingredients with those that you already have on hand.
To make your prep even easier, consider using some store-bought convenience ingredients in your recipes. Convenience ingredients will help to greatly reduce your prep time.
Already prepared convenience ingredients include; sauces, curries, rotisserie chicken, pre-cubed meat pieces, pickles, microwaved rice, frozen vegetables, and premade salad packs. Yes, your homemade bolognaise sauce tastes better than shop brought, but it also takes quite some time to make.
Using convenience ingredients will not only save you time, but will help you build confidence in your meal prep skills. Once you become skilled at meal prepping, then you can make everything from scratch if you so desire.  
Now make a grocery list of all the items you require and go buy what you need. Check the ingredients listed on food labels to ensure that they aren't loaded with fat or sugar as these ingredients lead to weight gain.
5.  Choose Your Meal Prep Day Or Time
One of the best easy healthy meal prep ideas is to choose a period of time when you'll have the time and energy to prep. This could be on the weekend if you work during the week, or choose whenever time works for you.
If you have demanding children, choose a day or time when your partner or someone else is available to look after the children. If that's not possible, set aside some time to prep when the kids are busy with other activities.
When choosing your meal prep day or time, consider all time factors. Work out how long it will take to chop ingredients as well as your time to cook. And don't forget to allow time for cleaning up afterwards.
Choosing the correct day and setting aside enough time for your meal prep is an important step. It could make the difference between being successful and consistent at meal prepping or giving up in frustration!
6.  Be Prepared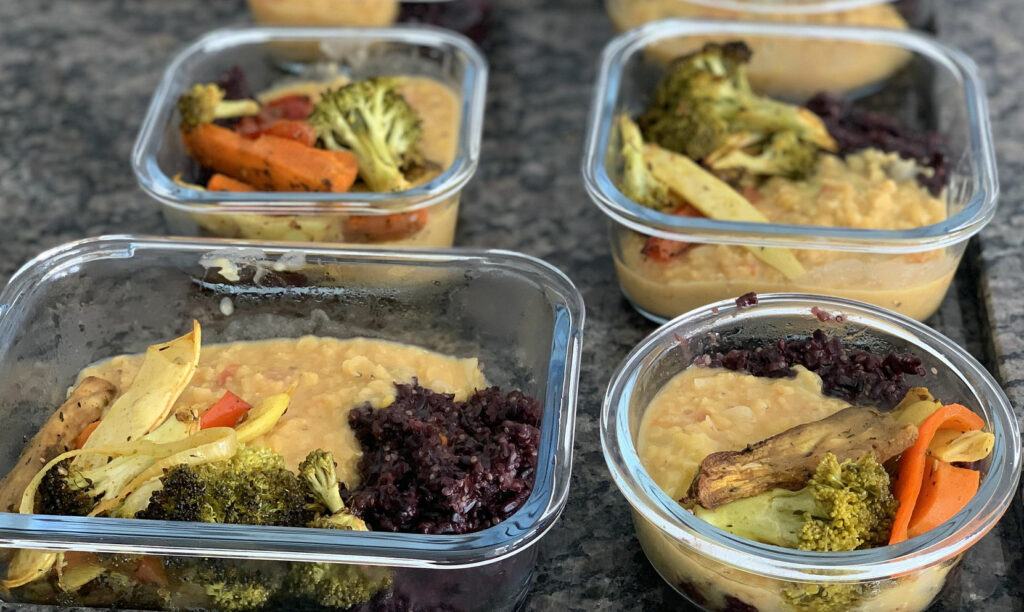 A common mistake that newbies make when first implementing these easy healthy meal prep ideas is not being prepared. Make sure that everything you need is ready to use. And don't forget to allow yourself enough time to re-read recipes.
Be realistic about how long it will take you to prepare each meal. Take into consideration the time it will take to chop, slice and dice ingredients as well as the cooking time. Allow time for cooked foods to cool so that you can put them in the fridge or freezer. And don't forget to factor in time to clean up.
Before commencing, check that you have enough fridge or freezer space to accommodate your all your prepped meals. Make sure you have everything you need close at hand including:
Recipes
Ingredients
Sharpened knives
Pots and pans
Kitchen appliances including, mixers, graters, timers
Pre-washed herbs, salads and/or vegetables
Trash bin
Correct sized containers to store prepped meals
Music to cook by 
Being prepared with everything you need before you start will make meal prepping so much easier and enjoyable. Always allow yourself enough time to complete all of your tasks. If you follow these tips, you're less likely to feel rushed, overwhelmed or stressed.
7.  Easy Healthy Meal Prep Ideas: Reduce Prep Time
Prepping meals in advance allows you to quickly get a healthy meal ready when time is short. But you don't want to overload and stress yourself when prepping meals either.
The best way to not to overwhelm yourself when prepping is to use convenience ingredients. Instead of making everything from scratch, use shop brought items. These can include sauces, breadcrumbs, rotisserie chicken, pickles, frozen vegetables, canned beans and premade salad packs.
Reduce prep time by purchasing meat and skinless chicken that are already been diced. For example, buy cubed chicken breast, tenderloin strips, diced beef, etc. You can also reduce the amount of time spent prepping by cooking up a double batch of your favorite recipes.
Another time saving idea is to bake multiple items at the same time. For example, you can bake 2 or 3 different meats for different recipes at the same time. Different meats require differing amounts of time to cook. So set your timer to remind you when the meat will be done.
A bake tray is another time saving idea because you bake the meat/chicken and veggies in the one tray. Just make sure that your veggies and meat are cut to similar sizes so they'll take the same amount of time to cook. You don't want to have under-done meat, or over-cooked vegetables.
The above easy healthy meal prep ideas will help you to get things done much faster. You'll be stress free and have some time left over to relax!
8.  Make Easy To Adapt Mains
Food variety is the spice of life! So, don't make the mistake of making the same meals over and over again. Eating the same meals reduces the enjoyment you get from eating. This will then entice you to order takeout foods which aren't good for your waistline.
To change up your meals, pair your baked meats or skinless chicken with different sauces. For example, adding an Italian tomato sauce when you reheat chicken will give it an Italian flavor. Your baked chicken will take on an Asian flavor by adding hoisin sauce to it. You can add any sauce that your heart desires for the flavor you want.
If you are really short on time, or if your cooking skills aren't at an advanced level, don't fret. Instead of making a sauce from scratch, use store purchased sauces. They come in a huge variety such as satay, green curry, hoisin, bolognaise, chutney, white wine sauce, etc.
Another way to add variety is to mix up the sides that you serve with your main meals. For example, add different grains such as rice, pasta, or beans for variety. Mix up the vegetables or salads that you serve with your meat or chicken dish. You could even shred the cooked meat or chicken to make tacos, enchiladas, frittata, sandwiches, or an omelette.
Remember to defrost your prepped frozen meals in the refrigerator the night before you need them. Defrosting food in the refrigerator rather than on the benchtop helps avoid germs and bacteria getting in your food.
9.  Practice Makes Perfect
Meal prepping can save you time, stress, and calories! As a bonus when you cook you own meals, instead of takeout meals, you'll be able to control your weight. And you'll be able to feed your family good wholesome meals that taste delicious.
But when you first start prepping meals the process might seem overwhelming. This can be due to taking on too many recipes or because prepping might take you more time than what you first anticipated.
It's going to take some time and patience to meal prep on a continual basis. But with practice you will quickly embrace the methods involved in meal prepping. You'll then be amazed at how much time you actually save.
Stick with it. Because with a little practice, combined with the above easy healthy meal prep ideas for beginners, you'll soon be prepping like a pro!