This post may contain affiliate links. This means if you click on the link and purchase the item, I will receive a small commission at no extra cost to you.
If you have sensitive or acne prone skin it can be virtually impossible to find a facial cleanser that is gentle and works! But I finally hit the jackpot! I found the best face wash for acne and sensitive skin ever! It's called Vitamin C Facial Cleanser – Anti Aging, Breakout & Blemish, Wrinkle Reducing, Exfoliating Gel Face Wash.
This product is one of the best beauty tips I have ever come across. I have tried many different face washes, and I have to say that this one's totally AMAZING!! After just a few weeks my skin looks and feels smooth and supple. My acne has disappeared, my wrinkles are fading so are the dark circles under my eyes.
This Cleanser contains totally organic, natural ingredients. These ingredients' properties combine to help retain the skin's moisture without clogging pores which cause breakouts, and blemishes. The cleanser removes dirt and dull skin cells without irritating or drying out the skin. 

The Best Facial Cleanser For Acne And Sensitive Skin
These ingredients work together to rid the skin of acne. They help fade the appearance of discoloration and repair damage caused from prolonged sun exposure. They also restore the skin's protective barrier and help promote the appearance of healthy-looking skin!
While no formula can completely eradicate wrinkles, Vitamin C can help reduce premature aging by reducing fine lines, wrinkles, and dark spots. It does this by stimulating the growth of collagen. And by protecting the skin with a moisturizing barrier.
Vitamin C is also great for oily skin because it has antioxidant properties which help reduce acne. The inclusion of ingredients such as Green Tea and Chamomile in this facial cleanser is fantastic. They provide powerful antioxidant, anti-inflammatory, and antimicrobial properties. These properties hydrate your skin. They also protect your skin from premature aging by reducing the appearance of wrinkles and slowing down the aging process.
Further to this the ingredients repair UV damage, and soothe the skin to reduce redness.  Skin irritations such as eczema, psoriasis, and rosacea are reduced. Green Tea and Chamomile are great for oily skin as they fight off bacteria that can lead to acne breakouts.
Vitamin C Facial Cleanser by InstaNatural also contains Sugar Cane, Coconut Water and Aloe. These ingredients leave the skin feeling hydrated and refreshed. The antioxidants, and enzymes help prevent blackheads, acne, and blemishes. If you have a dry, dull skin, this facial cleanser will re-hydrate your skin and give it a radiant glow even in winter!  
The Best Face Wash For Acne And Combination Skin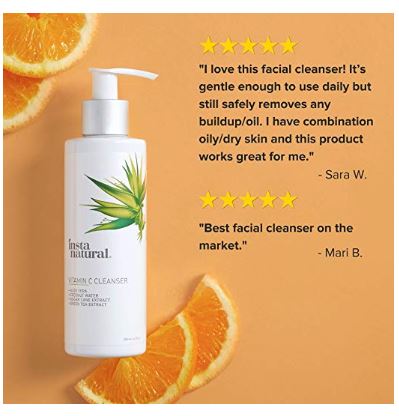 In my opinion Vitamin C Facial Cleanser is the best face wash for acne and all combinations of skin types. It's beautiful, mostly natural ingredients are beneficial for all skin types such as oily, normal, dry, combination and sensitive.
Unlike other cleaners, this product balances out all skin types without stinging. It thoroughly cleans my skin without leaving it dry. My skin is clear, my pores are smaller, and it's blemish free. It feels smooth, soft, supple and hydrated.
This facial cleanser has diminished my rough patches which gives me a more even skin tone. This makes applying makeup so much easier as the foundation just glides on.
Within a few weeks I noticed that my fine line wrinkles and the crow's feet around my eyes were reduced. And the dark circles under my eyes have significantly faded. My skin looks radiant and has a youthful glow. I definitely feel more confident with the way I look.
I'm amazed at how many compliments I have received regarding the texture and glow of my skin. My friends wanted to know which facial cleanser I was using because my skin looks clear and more youthful. They are all now converts and just like me, they love using Vitamin C Facial Cleanser.
Economical Cleanser
This facial cleanser is incredible and economical! You only need to apply a small amount to dampened skin. You then massage it to create a lather concentrating on your troublesome spots such as the T-zone. Rinse it off with water, pat dry with a towel and then moisturize with the retinol moisturizer.
I'm now more committed than ever before to my daily skin care routine. I'm so impressed with the cleanser and moisturizer that I purchased the Day & Night Duo Bundle – Vitamin C Serum & Retinol Serum. If you have problem facial skin, I would urge you to give these products a try. You can purchase these lovely products from Amazon, just click on products below.
Facial Cleanser Is Suitable For All Skin Types
Vitamin C Facial Cleanser is suitable for all skin types because it mostly contains natural ingredients. It's free from harmful ingredients such as; parabens, mineral oil, formaldehyde releasers, synthetic dyes, petroleum, polyethylene glycol (PEGs) and DEA/MEA/TEA. And on top of all this, it's not tested on animals.
I love this facial cleanser! It truly is the best face wash for acne and sensitive skin. My skin is smooth and supple without the appearance of any adult acne! It cleanses my face and removes oil build-up. All without riding my face of its natural oils which can lead to more dryness and acne. Vitamin C Facial Cleanser is so gentle, it keeps my skin looking more youthful. I highly recommend it to anyone who has sensitive skin and/or is prone to acne. 
Vitamin C Facial Cleanser Ingredients: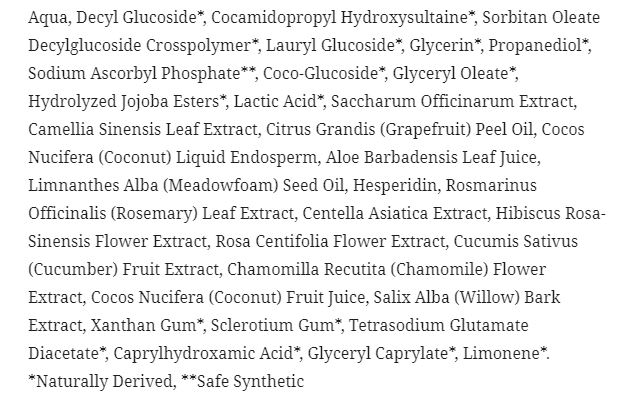 They predominately use natural, naturally-derived and organic ingredients. All naturally-derived ingredients are denoted with an */asterisk on the ingredient list.
This product is for external use only. If you are allergic or sensitive to any of the above ingredients, please don't purchase this facial cleanser. Always discontinue use if redness or irritation occurs. If irritation does occur contact InstaNatural for a refund.

Do you love your facial cleanser?
Have you tried the Vitamin C Facial Cleanser by InstaNatural?