What Is A Confident Woman?
Knowing how to be a more confident woman is one of the most desirable and important traits any woman could have. This is because confidence makes a woman beautiful!
What is a confident woman? A confident woman is one who believes in herself. She is proud to be herself and stands up for herself, and her values! She isn't afraid to express her own wants, opinions or beliefs, even when others disagree with her.  
A confident woman won't ever let anyone put her down! She knows that everyone has their own opinions, but also knows that other people's views aren't more important than her own.
Self-confident women know that they are not perfect because no one is perfect. Confident women don't feel the need to conform to other people's ideals regarding clothing, body shape, or standards. They don't waste their time and energy trying to be someone that they're not. Women who are self-assured aren't living for someone else's praise, they move forward in life towards their own goals.  
While physical and facial beauty is desirable, it isn't the be all and end all. Having said that, confident women know that it's important to take good care of their body, mind and soul. They know that their body is the only one that they will ever have. It just makes sense to look after it.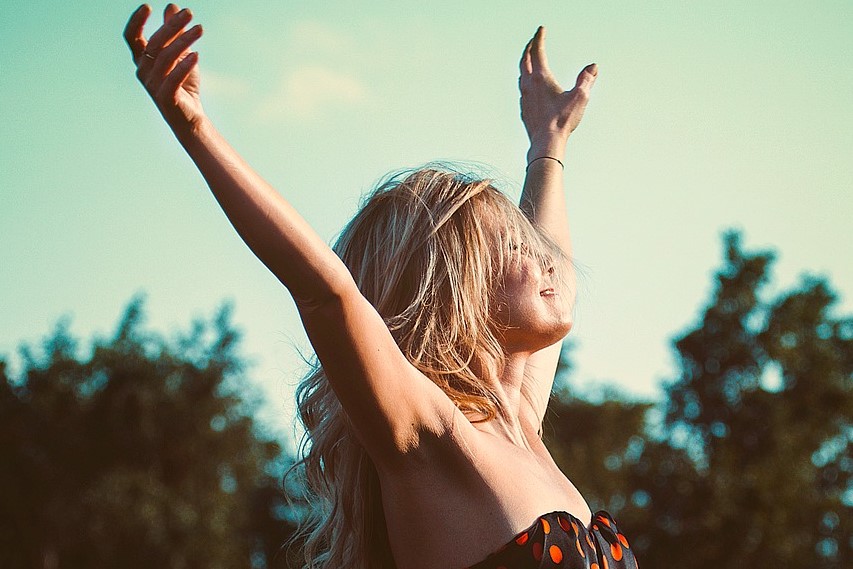 6 Tips On How To Be A More Confident Woman
If you want to feel more positive and confident, then you may need to make some changes to your everyday life. Below are 6 simple changes, which will improve your outlook on life and increase your confidence. Practice them until they become a natural part of your more confident life!  
1. Believe in yourself
Believe that you are a valuable human being with an important purpose in life. That purpose is to live your life in the happiest and most positive way that you can. Your health and wellness will benefit when you believe in yourself and your ability. Believe that you can, and you will succeed in whatever you set out to do! 
2. Positive attitude
Your attitude determines how you feel about life. A positive, joyful attitude leads to positive results! A bad or negative attitude leads to dissatisfaction. The good news is that you are in control of how you think, feel and how you behave. So, look for the positive in any situation and happiness will follow.  
3. Smile often
One way we can quickly and easily improve our lives, as well as the lives of others, is to SMILE. When you smile your face lights up and your brain starts to produce endorphins (natural pain killers). Endorphins reduce physical and emotional pain, and give a sense of well-being.  
People are naturally drawn to people who smile rather than those who frown. This is because we sub-consciously want to share the pleasure of another person's happiness. If you want to look and feel better, all you need do is to smile! 
4. Nurture relationships
Spend time with the people that are important to you. This can easily be achieved by having regular meals with the people you love. Communicating and getting to know family and friends better, will enrich your relationship with them.  
5. Walk tall
It doesn't matter your age, height, or size; anyone can look better by sitting, standing and walking straight and tall. By doing this your stomach gets pulled in and you will also gain some extra height. These 2 factors combined will give the illusion of a taller, thinner more confidant you.  
Your friends and colleagues will notice your increased confidence, and many may think that you have even lost some weight. Try sitting, standing, and walking straight and tall. Do it today! It will put that confidence back into your step while making you look slimmer too. 
6. Get outdoors
Get out of doors into the sunlight by going for a walk or just sitting in the sunshine. Sunlight lifts our mood which makes us feel good. Don't forget to use sunscreen on hot sunny days.  Pay attention to nature's beauty, to the sights, sounds and smells.
Slow down by breathing in deeply and letting go of any tension in your body. Breathing in the smells, absorbing the sights, sounds, and textures of nature.  Getting close to nature is good for the body, mind and soul. It helps strengthen you emotionally and physically. It will refresh and energize and give you an energy boost to continue on with your hectic day.  
Build Confidence And Self Esteem
Confident women are perceived as beautiful because they have an energy or vibrancy about them. This is because women who build confidence, build self-esteem. When your self-esteem is high, you are happy within yourself and have a positive attitude to life.  
A positive attitude comes from within one's self, not from others. Use your inner strength to became the confident woman of your dreams. A woman that is open, honest, loving, sophisticated, kind, strong, beautiful, or one that has an independent spirit.  
Confidence is portrayed in your smile, your tone of voice, your manners and in the things that you do. So, smile often, be kind, compassionate, and polite to others. These small positive changes can improve your mood, and your day. So, make time to incorporate these into your day. When you do, you will notice an improvement in your life and your confidence will soar!  
The best thing about building confidence and self-esteem, is that the more you do it, the more confident you become. So, search within yourself to find the confident goddess you long to be!    
How To Be A More Confident Woman
The negative things in your life; can have a negative effect on your confidence! These can include being overweight, run of bad luck, or not getting that promotion.
Confidence is simply a state of mind! So, if you want to be more confident you need to change your attitude and the way you think. You're totally in control of how you think and therefore how you feel.  This means that you can make yourself appear or act confident, even when you are not.
Search your inner power to access the strength to enable change. Then practice at being confident. The more you practice at being confident, the easier it will become. To ensure success, there are 9 basic guidelines that you need to know about how to be a more confident woman: 
Know that with practice you CAN become more confident.
Don't force yourself to become someone that you're not.
You won't always make the right decisions.
When you make mistakes, owe up to them.
Always forgive yourself whenever you make a mistake.
Learn from your mistakes so that you don't make the same mistakes again.
Don't make false promises to others or over commit yourself.
Don't carry around guilt as guilt weighs you down and sucks the energy from your body.
Don't lead a sedentary life. Incorporate exercise into your life as exercise releases feel good hormones which help you to have a positive attitude to life.
Everyone should try to improve their confidence as being more confident will improve your life and make your dreams come true! The above 9 guidelines will help you to stay grounded to ensure that you succeed.   
Summing Up: How To Be A More Confident Woman
Confident women are happy women! And to many people they are perceived as being beautiful. The best thing about being confident is that it's a state of mind. Anyone can become more confident with practice.  
Above I mentioned 6 simple steps that you can take that will quickly improve your confidence. These include: 
Believe in yourself.
Find the positive.
Smile often.
Spend time with those you love.
Stand and sit up straight and tall.
Appreciate nature and the sunshine.  
Incorporate these tips into your life and in no time your confidence will soar!    
Yoga Burn Fitness Challenge. This unique routine is designed for women that want to burn calories, manage their weight and get into great shape!
Have you always wondered how to be a more confident woman? 
What things are hindering your progress in becoming more confident? 
What things do you do that increase your confidence?